Car Air Conditioning System
By
( Please click here www.paypal.com/cgi-bin/webscr and make a small donation and I will answer any A/C question you have . Thanks Jeff ) Its that time of year again and for most of you Iam sure that you have already turned your vehicles A/C system to the Max indicator on your dash.

For How To Charge Your Vehicles A/C System, Click On The Link To Watch The Video
For Great E-Books on Automotive Repair , Please visit our Sister site at ;
But what Iam sure of for most of you is, do you know how the system works and what to look for if its blowing out cool or even warm air.
So Iam here to give you a small class ( bare with me ) on just what makes the Car Air Conditioning System work in your vehicle. Then we will go over a few items to look for that will help you diagnoss your owns cars A/C sytem if its working under par.
OK, lets start with the basics. Your A/C system is a basic Heat Pump. It starts from the compressor as low pressure vapor and compressed into high pressure vapor. From there it is pushed through the condenser where it becomes high pressure liquid by shedding heat via the condenser.

After that it might pass through a drier (based on what system you have) where moisture is removed. From there it will pass through a orifice valve or expansion valve based again on the type of system you have. The main reason for this is to slow the High pressure liquid down to a low pressure liquid so it can evaporate better inside the evaporator. As it evaporates from a liquid to a vapor it becomes very cold.


It then leaves the evaporator and passes through an accumulator and then heads back to the compressor as a low pressure vapor to start the process again. Depending on what system you have you will have a drier after the condenser or an accumulator after the evaporator .

The drier system will use an expansion valve set up, while the accumulator system will use an orifice valve set up
If the system is ever open, it is a good idea to replace them as they will become over saturated.

As far as freon, there are only two types out there that most of you will come in contact with. They are the R-12 system and the more common 134A system. By 2011 though, car manufactures will start using R-1234 YF or even R-152A while European makers will switch to R-744

R-12 was banned in 1994 because of its effect on the ozone and thus R 134A took its place. R-12 molecules are much larger in shape than R-134A thus only tube and fin condensers were needed, but R-134A has much smaller molecules making heat transfer a little harder so engineers decided to come up with the parallel flow condenser which has very small passages for the freon and oil to travel thus making flushing one after a compressor failure almost impossible.
Remember that if your mechanic trys to flush one out for you, then tell him you would rather have a new condenser installed.. Flush is good only up to a certain point but it should only be used on straight lines or tube a fin condensers, never parallel condensers or evaporators..
If you replace a condenser, remember that all condensers are not the same. Some shops will replace it with a cheap nock off to save a few bucks but you will feel it when it gets hot outside. Remember that the condensers job is to shed heat or better put it has to turn the freon vapor into a liquid by shedding BTUs of heat.

Its this low pressure liquid that travels to the evaporator were it is converted to a vapor by boiling into a vapor through the collection of BTUs of heat from inside your vehicle. This process turns the evaporator ice cold .Air is blown over the ice cold evaporator and routed through the air ducts.

If your Nissan Quest had a condenser replaced and is now only blowing warm, chances are a cheap version of the OEM was installed. Demand an OEM replacement or you will never have cold air

Freon and oil travel together and they rely upon each other to help do there jobs so low freon means low oil movement and possibly trouble with the compressor. If you have a freon leak, look for signs of oil. That's the first give away and remember that all oils are not the same.
Another common place that leaks are the service ports. Most of the time they should have a plastic cap on them. If not then replace them with a new cap. Inside the service ports are small valve cores. The can leak and should be replaced if the system is opened. Also make sure you have a good seal inside your service port cap.

You will need one of these to remove the valve core. They are also great for tightening down your old ones if you suspect a leak there.
If your vehicle is running R-12 in it, then your Low side service port will look like this. ( Notice that it is threaded )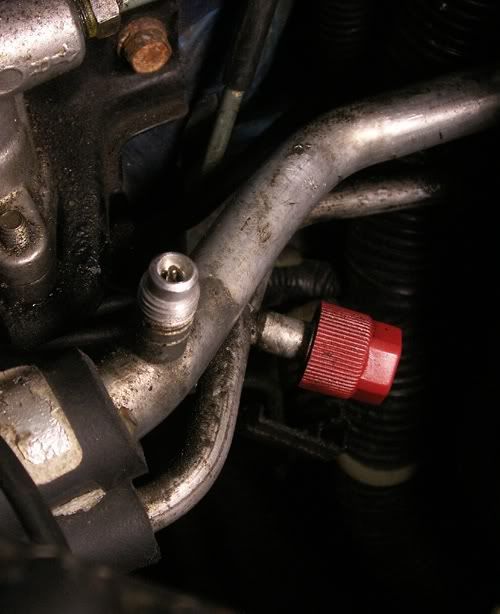 If you are running an R-134a system, then your Low side service port will look like this. The manufacturer does this for a reason so people cannot mistakenly mix freons in there vehicle
Most mechanics use either dye or an electronic sniffer to located leaks. Of the two I prefer the electronic sniffer from Yokogawa. Its fast and accurate and you don't have to wait for the dye to find its way out of the system before you try to find the leak.

Most freon leaks occur at the joints, seals and switches. The compressor body can leak as well and if the front shaft seal is leaking on a compressor its best to replace it completely.

R-12 uses Mineral oil while R-134a uses PAG ( Poly Alkaline Glycol ) and retrofits use Ester oil which will bind to both. Double end cap PAG will bond to both R-12 and R-134a.

ICE 32 is the Slick 50 of compressor lubricants and I highly recommend using it in every job but remember to subtract about 1.5 oz of oil to allow for its use.

Now what ever you do don't think that more is better when it comes to an A/C system In fact more is worse and can even destroy a system by creating excessive head pressure.
Freon is always introduced to an A/C system on the suction or low side. Do not try putting it into the High side or you will have some serious problems with your compressor not to mention the can or tank you are using might explode from excessive pressure from the compressor. You can spot the low side port by looking for a blue cap on the R-134a types. If the cap is black or you don't have a cap then you can find it by the large aluminum tank called the accumulator and it is smaller in diameter the the high side port and is always on the suction or low side line.
Oil is also introduced into the low or suction line. You can buy an oil injector at any after market A/C house or you can buy freon that has oil in it.
If you are the owner of an R-12 system then you will need a license to buy the freon as it was banned by the EPA. You can always convert or Retrofit your R-12 System but most of the conversions I have seen don't work very well and can be expensive to do if done the right way.
If you plan on putting freon in your own system then invest in a small kit at your local parts hose that comes with a small gauge that has a color chart along the pressure needle. Its a lot easier to check your own system with that then taking it to a shop.
Remember that too much freon is just as bad as not enough. If you over charge the system then you could damage the compressor, so don't think in this case that more is better. In most cases your A/C will blow warmer.

The only good way to check if you have a low freon charge is with a good set of gauges.
But you have to know how to read them and that will be another discussion.

If you have only warm air blowing out, check to see if the cooling fans and compressor clutch are coming on after you turn the A/C on. If not then you will need to have it looked at by a qualified technician. ( Low freon will prevent the compressor from kicking on and a defective cooling fan could be at fault )
If you have no air coming out then chances are the fuse, relay or control head switch is defective. If you know your way around a Multi meter then you might be able to tackle this one yourself.
If only hot air ( And I mean hotter then outside ) is coming out then you might have a stuck blend door .Check under the dash for lose or leaking vacuum lines ( Ford Cars and Trucks ) or the electric servo could be out. Always check fuses and relays first.
Most vehicles today use an orifice valve to control freon flow from a high pressure liquid to a low pressure liquid. They have built in screens to trap debris that is floating around. If yours is plugged up then you will get only cool are at best. The down side is that if it is plugged up tight , then the Head pressures in the compressor will go through the roof ( 500psi ) and unless you have a high pressure cut off switch then you will blow a compressor.

They come color coded so if you plan on changing out an orifice valve try matching it up by color. This is very important because the wrong size can play havoc with your system

Normal head pressure or high side pressure is calculated by multiplying the ambient temperature by 2.3. Suction or low side pressure should always be around 30 to 35 in hg.

Other systems use an expansion valve or H block as Chrysler calls it

Feel the lines before and after the orifice valve. ( It might take a little detective work to find it and not all cars have one ( ie. Saturn, Concord, New Yorker use the H Block ). If the line is hot before and cold after then your orifice valve is doing its job, but if the liquid line has frost on it then you have a problem.
If the line coming out of the evaporator is frosty cold then your system is working good but ifs its warm then you have a blockage or expansion valve problem.

If you have a fan clutch instead of electric fans, check for proper operation by warming the engine up to operating temp and then have someone watch the cooling fan as you turn off the engine. It should not keep turning after two seconds. With the engine off, check for any play in the fan clutch itself by try to move it up and down and side to side. Any lateral movement is not good.
If you engine is prone to over heating then your A/C system will suffer due to the fact that the condenser is already trying to shed heat from inside the car and having excessive heat next to it will make its job harder.
If your compressor is on its way out then you will hear it making a chattering noise when it is running. If it fails you must replace the condenser along with the compressor due to debris lodged in the condenser.
If your High pressure switch keeps shutting off you compressor then chances are you have a plugged condenser or your fans aren't kicking on.
Driers and accumulators are only good for a couple of years . 5 at max. The reason why is that one of there jobs is to remove moisture from the system because moisture is a non condensable and moisture plus R-134A equals Hydrochloric acid. Not good. After so long the dessicant bag becomes over saturated and can no longer do its job.

The primary job of either two is the separation of vapor and liquid freon. The drier prevents vapor from passing into the liquid line and the accumulator prevents liquid freon from passing through the vapor line. I know it sounds a little confusing but try to think of it like this.
If any vapor leaves the condenser and makes its way to the evaporator then you loose that much cooling efficiency because vapor cannot collect heat and if any liquid is allowed to leave the evaporator that has not converted to a vapor then it will travel straight to the compressor and " Slug " or damage the compressor since liquid does not compress.

If your compressor fails then tell your mechanic that you want a new condenser and accumulator ( or drier ) valve cores, Double End Cap PAG oil with ICE 32 , in line filter, new orifice valve ( if you have one ) along with a new (not a reman ) compressor. Trust me you will thank me next year.
Last but not least, never try to mix freons. It is a recipe for trouble.

There are a lot of people out there that will tell you that's its OK but here's the truth about it. Most commercial freons like R414b ( Hot Shot ) are made from a mixture of freons, one of them being R-22.
The R-22 is in not compatible with a mobile A/C system and will destroy compressor seals and O-rings in your system. You won't notice it now but by next year your system will leak from every seal if you use it.
The only legal Drop in I have seen is Freeze 12 but is does not work as well as R-12, so as long as its still available, use it.
Last but not least, don't mix R-12 with R134a. The two freons are not compatible with each other and in short you will have an expensive repair bill.

Now I know there is a lot that I didn't mention but I want you to have basics for this summer. I hope this has shed some light on how it works and what to look for and remember to look for this logo when you go to a shop. It means " Automotive Service of Excellence " and if the shop you visit does not employ these certified experts then maybe you should look else where.


Now remember that if you have question about your vehicles A/C system or a repair problem , then just leave a comment by clicking on the contact us tab at the top of the page and I will try to answer it on my next blog, and if this web site has been helpful to you then please click on the coffee cup icon below to help us keep this site running. Thanks for all your support. Jeff

If you like this post, buy me a cup of coffee.
Leave a Comment